Osteoarthritis: It's Not Just for Older Pets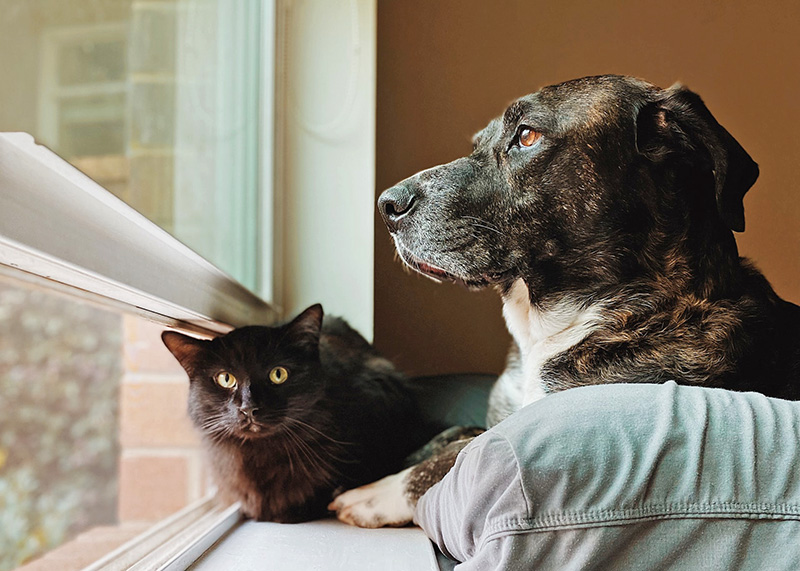 Osteoarthritis in pets is often thought of as a geriatric pet disease that warrants treatment when our pets are obviously painful and experiencing lameness. However, osteoarthritis often starts younger than you might expect, and pain may be present even before lameness is apparent.
Let's start with what osteoarthritis is: it's the most common form of arthritis and it is characterized by painful inflammation and degeneration of one or more joints. Over time, it can lead to bone-on-bone contact.
Many factors contribute to the disease process, including overweight or obesity, abnormal joint development, past injury or orthopedic surgery, and how a pet is built.
In dogs, early signs of this disease can include:
restlessness or irritability,
frequent position changes during rest,
not as fast getting up or sitting down,
weight shifting while standing,
less interest in activity or play, and
hesitation before walking, sitting, or climbing stairs.
Eventually, a dog may begin to limp, to experience stiffness when walking, and to have difficulty going up or down stairs and jumping up or down.
In cats, osteoarthritis may look like a reduction in play, grooming, socializing, and appetite, with increases in hiding and sleeping and changes in urination/defecation habits. Cats can also have trouble jumping up/down, climbing up or down stairs, running, and chasing objects.
Because this disease is painful and progressive, early diagnosis and treatment are important for long-term pain management and slowing the progression of the disease. Treatment includes a combination of pain medication, weight loss or maintenance, dietary changes, environmental modification, and exercise.
If you feel your pet may be showing signs of osteoarthritis, our clinic can share additional resources on how to know if your pet has this disease and talk with you about treatment options.
– Dr. Jeanette Barragan
Photo by Madalyn Cox on Unsplash