Posts in Category: Training & Behavior
I need to come clean: I'm a bit of a lazy dog owner. I don't brush Emmie's teeth, I'm usually a few days late to remember her heartworm, flea, and tick preventatives, and we only did the bare minimum with training to curb Emmie's issue with meeting strangers.
COVID Shut Down Puppy Socialization
Like most of you, our lives drastically changed March 2020. Not only did COVID become part of our lives, but we also welcomed our first daughter. (My first time leaving the house without her to run an errand was the day the governor shut the state down.)
So, what little progress we made with Emmie meeting strangers and with getting her used to people coming into the house went out the window. And my family wasn't not alone.
Now that many people are heading back to work, we are seeing a lot more behavioral issues with pets as they are trying to adjust to post COVID life. For my family, this transition has been tough, because now not only do we have a dog that is even worse with strangers, but we must think about playdates with handsy toddlers with underdeveloped pre-frontal cortexes.
Time to Ask for Help
We were at a loss. The thought even crossed my mind that we may need to rehome our dog. I've helped a lot of clients manage routine behavioral issues, but some issues require looking to veterinarians who have more training and certification in their specialties.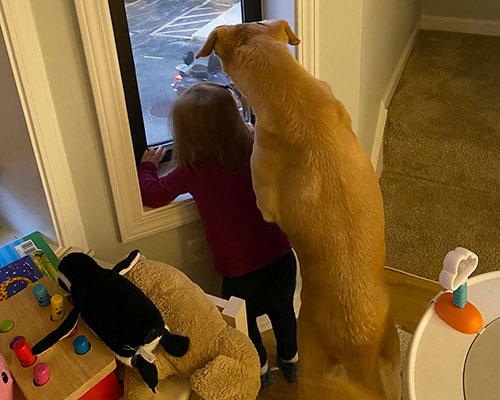 So that's what my family did. We have started working with a boarded veterinary behaviorist. You may have found being referred to a specialist frustrating (and at times expensive) when I or one of my colleagues recommended that. However, please know that it's because we want what's best for your pet. And sometimes, we don't have that particular skill set. Even we need help sometimes.
We have a long road ahead of us with Emmie, but I'm hoping that as we welcome our second daughter to our family this summer, with some training and tweaking medications, things will get better. I'm hoping that maybe this time around, my maternity leave will involve having more family and friends meet our baby girl in person instead of over Zoom.
Bringing Home (Another) Baby
This is probably a good time to mention that I will be on leave from the end of June (unless this little one decides to come early) through the end of October. I would also like to thank our medical director, Dr. Sullivan, for being so supportive with scheduling my leave and return to work. And the amazing staff at Medical District Veterinary Clinic have been so supportive and helpful as they watch me waddle from patient to patient, never complaining that I'm not as able to help with certain tasks, which means more work for them.
I am so grateful to be part of this incredible team, and although I am looking forward to having a warm summer, pandemic-free (fingers crossed) maternity leave, I know I will be excited to come back in the fall.
— Dr. Alyssa Kritzman
…And What You Can Do to Help
After a decade in practice, I'm thankful I've only had to go the hospital for a cat bite once. Since then, I've gained a lot of experience and understanding of the feline psyche, and my best summation of how cats perceive going to the vet is this: It's an alien abduction.
Think about it. For the most part, cats live their whole lives in a relatively small area, and an overwhelming majority of them love it that way.
The most important aspect of a cat's life is their territory (which includes you). Their territory is their world, their home planet.
Most cats rarely travel in cars and only ever see a travel carrier when they are headed to the vet. Imagine, you're living your life on your home planet, then you are forced into a pod, and thrust into a metal vessel, and taken to a faraway place that smells aseptic and strange. While there, a weird, hairless ape pokes and prods you. Then, you are thrust back into the pod, whisked home, and your owner acts like nothing happened.
I'm honestly surprised more cats haven't attacked me. I'd like to think I'd put up a fight too, if I was abducted by aliens. However, maybe if they had a nice spread out and some calming aromatherapy, I'd be amenable to some polite questioning.
Making the Vet Visit as Low Stress as Possible
So that's what we try to do for your feline family members. Here at Medical District Veterinary Clinic, we are Fear Free Certified. This means all the staff members here have taken training in how to make the veterinary experience as low stress as possible.
We have cat treats at the ready, Feliway spray aplenty, and a separate cat area. We also have gone to great lengths to learn how cats think and how to read their body language. We understand what's important to them.
Cats often get a bad rap. People think that cats are aloof and don't care about anything, but cats care about everything! Please know that we are doing our best to be peaceful and compassionate alien overlords.
Try This at Home
There are a few things you can do as well to make the trip to the vet a little less stressful. The first is getting your furry felines accustomed to the carriers you use to take them places.
Just bringing the carrier out before a vet visit can be a trigger. If you're able to leave the carriers out, put your cat's favorite treats or toys in there. This small step can help greatly to reduce your cat's aversion to the carrier.
You can also try using products like Feliway spray, Composure treats for cats, or Rescue Remedy. If you think your kitty needs something stronger, talk to us and we may prescribe medications to help make the visit less stressful. For more information about eliminating the stress in your cat's life, The Ohio State University Veterinary College has a wonderful site call the Indoor Pet Initiative with information about dogs and cats.
So remember, next time Fluffy's wellness exam comes around, you may be envisioning All Creatures Great and Small, but they may be thinking more Schwarzenegger in Predator.
—Alyssa Kritzman, DVM
Life as a new pet parent can be challenging, and to be honest, you never really know what to expect. After losing Oskee, our dog of 14 years, last fall, I knew our family would get a new dog, but we just didn't know when. We were not in any rush, but over the past few months, we were discussing it more and more.
This past month we adopted a puppy from a rescue in Central Illinois called Hudson's Halfway Home. I had the privilege of working with this rescue group before moving to Chicago, and they do amazing work. Our family was lucky enough to adopt a 6-month-old puppy, and she has been a great addition to our family.
Even though I see puppies daily, it had been more than 15 years since I had a puppy at home, so I had a lot to think about before bringing Winnie into our family. Here is my list of ways you can help set a puppy up for success.

Routine

Most important is creating consistency among all family members to avoid confusion for new puppies. Having a routine that everyone follows around housetraining, feeding, basic commands, and so on will help your new dog catch on quickly.
Housetraining
When it comes to housetraining, it is very important to be proactive early on. Puppies initially will not ask to go outside to go to the bathroom. Anticipating when they may need to go and then providing a small reward once they go outside is key. Additionally, do not confuse puppies by trying to teach them both potty pads and grass early on. I always tell owners if your goal is to train to go to the bathroom outside, that should be started from Day 1. After they are puppy pad trained, they can still be trained to go outside, but it may be more challenging.
Consistent diet
Puppies commonly have intestinal parasites and are also known for eating/chewing on everything. Keeping puppies on a consistent diet will help keep their bowel movements regular and predictable. Feeding an overabundance of treats and/or human table scraps will likely lead to soft stool/diarrhea. When puppies have diarrhea, the frequency of defecation increases, so accidents inside are common, further delaying potty training. Not to mention that a poor diet could make puppies very sick. I always say avoid the human food. It is not a good habit to start at such a young age.
House safety
Be sure you puppy-proof your house and have limitations for your new puppy. I highly recommend crate training. Crates are not to be used as a source of punishment, but a place where puppies feel safe and secure. The training may take time, and you may need to sleep next to the crate initially, but once puppies realize it is their safe place, it is wonderful. Having a dog crate trained also keeps dogs safe when you are away. If crate training is not for you and your puppy, then using baby gates to create boundaries can be used similarly. In addition to boundaries, make sure all garbage cans have lids or are in cabinets. Be sure electrical cords are placed where puppies can't chew them. Keep all cleaning products away from the puppy. Puppies love socks, so use caution to prevent your puppy from eating your socks.
Preventive care
It is very important to take your new puppy to the vet as soon as possible for an overall health check and vaccines, if needed. Typically, puppies receive vaccines at 8, 12, and 16 weeks of age. Additionally, puppies should have an intestinal parasite screen for worms (very common in puppies) and need to be started on heartworm, flea, and tick prevention as young as 6 to 8 weeks of age.
Socialization
It is very important to socialize puppies with both dogs and people. Puppies mature so quickly that it is important to start socialization very early on.
Insurance
If you are considering insurance, the best time to purchase is when you have a puppy with, hopefully, no pre-existing problems. Once a problem occurs, most companies will consider it pre-existing and insurance will not cover treatment of that problem the remainder of that pet's life (allergies and ear infections, for example). There are many insurance companies, so to find one that's right for you consider whether you are looking for coverage for accidents and illness or full coverage that includes wellness/preventive care.
---
Over the past three weeks, our family has made changes to our routines to accommodate Winnie. She is adjusting well and, luckily, our house is somewhat puppy-proof because it is somewhat kid-proof (minus all the kids' toys).
We are crate training her, and she is doing great. She loves her crate and goes in willingly at bedtime. During the day, she prefers never to go in, but when we leave the house, she does great in her crate. When we are home, she goes outside to pee every few hours, and she can make it through the night without an accident. So overall, housetraining is going very well, though there have been a few accidents.
We are both trying to figure each other out. Since she had lived in a kennel setting for 4 months, the grass and leash walking were brand new to her. Now that she is catching on and is gaining confidence outside, she is doing well. She still does not alert us when she needs to go out, so we try to stay proactive in telling her it's time to go "potty." With a continued consistent routine, I'm confident we will be accident-free in a short time.
Like many of you, we are thrilled to have a new dog in our home. We love having Winnie in our family. Start early and stay consistent to set your puppy or new dog up for success.
Dr. Drew Sullivan, Medical Director