Posts in Category: Senior Pet Care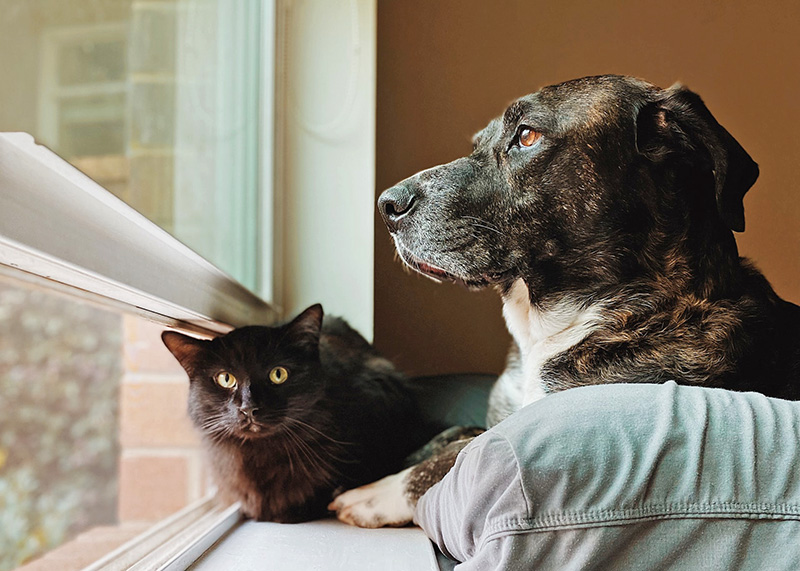 Osteoarthritis in pets is often thought of as a geriatric pet disease that warrants treatment when our pets are obviously painful and experiencing lameness. However, osteoarthritis often starts younger than you might expect, and pain may be present even before lameness is apparent.
Let's start with what osteoarthritis is: it's the most common form of arthritis and it is characterized by painful inflammation and degeneration of one or more joints. Over time, it can lead to bone-on-bone contact.
Many factors contribute to the disease process, including overweight or obesity, abnormal joint development, past injury or orthopedic surgery, and how a pet is built.
In dogs, early signs of this disease can include:
restlessness or irritability,
frequent position changes during rest,
not as fast getting up or sitting down,
weight shifting while standing,
less interest in activity or play, and
hesitation before walking, sitting, or climbing stairs.
Eventually, a dog may begin to limp, to experience stiffness when walking, and to have difficulty going up or down stairs and jumping up or down.
In cats, osteoarthritis may look like a reduction in play, grooming, socializing, and appetite, with increases in hiding and sleeping and changes in urination/defecation habits. Cats can also have trouble jumping up/down, climbing up or down stairs, running, and chasing objects.
Because this disease is painful and progressive, early diagnosis and treatment are important for long-term pain management and slowing the progression of the disease. Treatment includes a combination of pain medication, weight loss or maintenance, dietary changes, environmental modification, and exercise.
If you feel your pet may be showing signs of osteoarthritis, our clinic can share additional resources on how to know if your pet has this disease and talk with you about treatment options.
– Dr. Jeanette Barragan
Photo by Madalyn Cox on Unsplash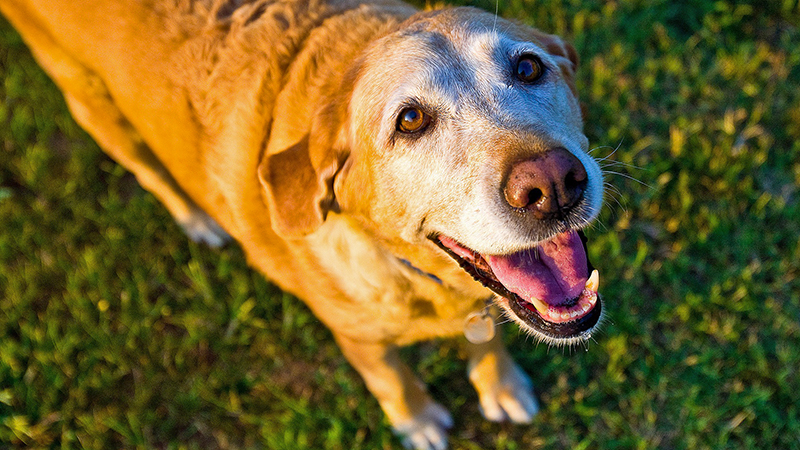 Life with an elderly pet brings a lot of uncertainty and anxiety. We all wish for our pets to be comfortable and happy and live as long as possible, but interpreting subtle signs shown by aging pets can be challenging.
I can relate on a personal level. Our 14-year-old mixed breed dog named Oskee was diagnosed with thyroid cancer a few years ago. My wife and I did not think he would still be with us today. He has done better than expected for a dog with this diagnosis.
We feel very fortunate that he is doing relatively well. Recently, however, we have been noticing changes that make us wonder if this is the beginning of the end.
Facing the Inevitable
How do you know if he is uncomfortable? Is he suffering? When the time comes, how will our children react? Will we know when it is time?
These are all questions that many clients are faced with, and now my wife and I are the ones contemplating them.
When you are faced with these or similar thoughts and questions, I recommend making a list of things your pet really enjoys. For example, Oskee enjoys going for walks, chewing bones, begging/taking food from our kids. As he has aged and his condition has declined, we have seen his enjoyment in these activities decrease.
Some days he does not seem to have the energy or strength to go on much of a walk. Occasionally his legs slip out from under him. He also spends much more time sleeping and is not waiting by the dinner table like he used to. Noticing these changes helps us determine a "good" day from a "bad" day.
Focus on Quality of Life
Fortunately, his good days still outnumber the bad. An anti-inflammatory pain medication seems to make him more comfortable, and he does pretty well. I recommend clients keep a journal of good and bad days. When the bad days start outnumbering the good days, the pet's overall quality of life needs to be considered.
For those of you with aging pets or terminally ill pets, I recommend discussing with your veterinarian what medications or therapies may help improve your pet's overall quality of life. Unfortunately, though, most of us will be faced with a very difficult decision: when is it time to say goodbye?
It is never an easy decision. No matter how sick or old your pet is, the decision is going to be gut-wrenching and difficult. My wife and I are not looking forward to making this decision, but I owe this to Oskee when the time comes. Oskee has been the best dog for the past 14 years, and I would never want to see him have anything but a good quality of life.
Dr. Drew Sullivan