Keeping Pets Safe for the Holidays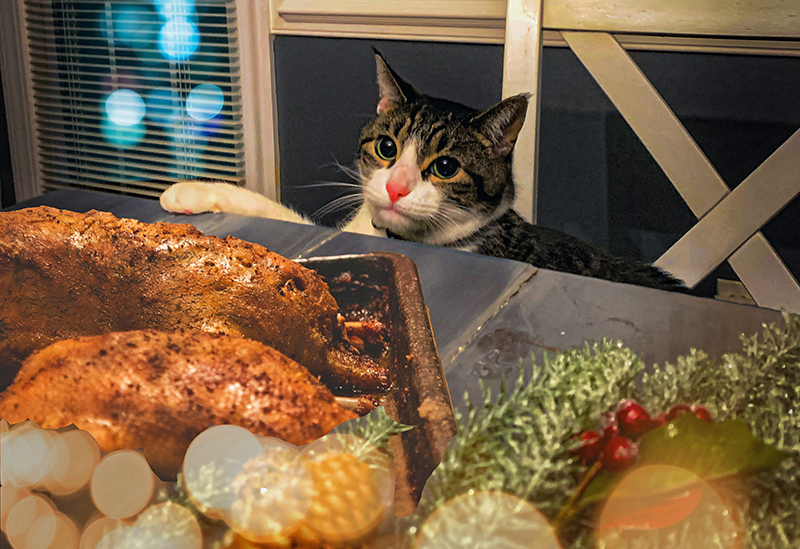 Happy Paw-lidays! As festivities begin, we want all involved to have a joyful and safe holiday season. Here are some tips to help you keep your four-legged loved ones out of mischief:
No Pawcuterie Boards, Please!
Many already know chocolate is a big no-no for our pets, but keep in mind that almost all human food is high in fat content—and that can lead to big issues! Keep any alcohol, bones, fatty, sweet, or spicy foods in places your pet cannot reach. Visit the ASPCA website for some great information on what not to feed
Instead of human food, consider keeping the dinner portion of your pet's food in a container for yourself and your guests to use as "treats" throughout the evening.
Instead of showing your love through food, consider switching out toys (perfect excuse for an early gift), adding catnip to some new or old favorite ones, or looking up some fun DIY food puzzles to make with the family!
Tempting Trash
Keep trash away from your pets by securing the lids or taking it out immediately. Think about what we're likely to throw away…
Fats and bones can lead to obstructions, pancreatitis, vomiting, diarrhea, and other issues that can result in a veterinary emergency.
Leftover dough can rise in your pet's belly and cause bloat.
Leftover sweets can contain xylitol (sugar substitute), which can cause low blood sugar, seizures, liver failure, or even death.
Strings/tinsel, aluminum foil, plastic wraps, and broken ornaments/glass can cause foreign body obstructions and serious injuries.
Old batteries can cause acid burns all the way from the mouth to the stomach!
Open Flames and Toxic Essential Oils
Keep your eye on any open flames, including menorahs, scented candles, stoves, or fireplaces, and keep them out of reach, since you are more likely to be distracted during this busy time.
Essential oils are not only irritating to our pets' sensitive noses, but cats can absorb the oils through their skin or lick it off their fur after it has been diffused in the air. Toxicity can occur quickly or after prolonged exposure.
Cinnamon, citrus, peppermint, pine, pennyroyal, sweet birch, tea tree (malaleuca), wintergreen, and ylang ylang oils are all toxic to cats.
Instead of essential oils to scent your home, consider baking cookies right before guests arrive (or every night; we don't judge).
Holiday Paw-ties and Decor
Christmas trees

Keep secure by tying to the ceiling or doorframe and secure with a sturdy tree stand. Cat parent pro tip: Place horizontal and vertical scratching posts near the tree. Providing both types of scratching posts will increase the chances of your kitty using the post instead of the tree!Do not allow your pets to drink the water from live trees as this can cause gastrointestinal upset. Also, do not add aspirin, sugar, or any other additives to the water.

Keep tinsel and ornaments that can be broken or that are made from food-based materials (such as salt-dough) out of reach of pets to avoid injuries such as intestinal blockage.

Electrical cords and lights

Chewing on the cords and lights can cause severe burns. Consider covering the cords with PVC pipes, offering alternatives like chew toys and treats, or using pet-safe bitter spray to keep from chewing cords.

Unplug decorations when not in use.

Flowers and festive plants

Many common holiday plants can be poisonous to pets if ingested. Visit the ASPCA Animal Poison Control Center for a list of plants that are toxic to dogs and cats.
This time of year can also be louder than usual at home and in the neighborhood. For information on helping your pets get through loud noises, such as fireworks, see our June blog post.
We will be closed from December 24 through 27 and from December 31 through January 2, so please contact your local 24/7 clinic or call ASPCA or the Pet Poison Helpline (see numbers below) if you're unsure of next steps. While consultation fees may apply (usually between $65 and $75), knowing the next steps for the health of your pet is priceless!
ASPCA Poison Control: (888) 426-4435
365 days a year, 24/7
Pet Poison Helpline: (855) 764-7661
365 days a year, 24/7
– Dr. Ana Valbuena
---
Como mantener las mascotas seguras durante los días festivos!
¡Felices fiestas! ¡A medida que comienzan las festividades, queremos que todos los involucrados tengan una temporada navideña alegre y segura! Aquí hay algunos consejos para ayudarlo a mantener a sus seres queridos de cuatro patas fuera de las travesuras:
¡No a las tablas de 'pawcuterie', por favor!
Muchos ya saben que no se les puede dar chocolate a nuestras mascotas, pero tenga en cuenta que casi todos los alimentos humanos son altos en contenido de grasa y pueden causar problemas. Mantenga cualquier tipo de alcohol, huesos, alimentos grasosos, dulces o comidas picantes en lugares fuera del alcance de sus mascotas. Visite el sitio web de ASPCA para más información sobre alimentos a evitar.
En lugar de comida humana, considere mantener la porción de la cena de sus mascotas en un recipiente para usarlo como "golosinas" durante toda la noche.
En lugar de mostrar su amor a través de la comida, considere cambiar los juguetes (excusa perfecta para un regalo temprano), agregar 'catnip', o comprar/'DIY'/hacer rompecabezas de comida con la familia.
Basura tentadora
Mantenga la basura alejada de sus mascotas asegurando las tapas o sacándola inmediatamente. Piensa en lo que es probable que tiremos a la basura…

Grasas y huesos pueden provocar obstrucciones, pancreatitis, vómitos, diarrea y otros problemas que pueden resultar en una emergencia veterinaria.

La masa sobrante puede elevarse en el vientre de sus mascotas y causar distensión abdominal.

Los dulces pueden contener xilitol (sustituto del azúcar), que puede causar niveles bajos de azúcar en la sangre, convulsiones, insuficiencia hepática o incluso la muerte.

Las cuerdas / oropel, el papel de aluminio, las envolturas de plástico y los adornos / vidrios rotos pueden causar obstrucciones y lesiones graves.

Las baterías viejas pueden causar quemaduras de ácido desde la boca hasta el estómago.
Llamas abiertas y aceites esenciales tóxicos
Mantenga su ojo en cualquier llama abierta como menorás, velas perfumadas, estufas o chimeneas durante esta temporada y manténgalas fuera de su alcance, ya que es más probable que nos distraigamos durante este tiempo.
Los aceites esenciales no solo son irritantes para la nariz sensible de nuestras mascotas, sino que los gatos pueden absorber los aceites a través de su piel o lamerlo de su pelaje después de ser difundidos en el aire: la toxicidad puede ocurrir rápidamente o después de una exposición prolongada.

La canela, los cítricos, la menta, el pino, el poleo, el abedul dulce, el árbol de té (malaleuca), la gaulteria y los aceites de ylang ylang son tóxicos para los gatos.

En lugar de aceites esenciales, considere hornear galletas justo antes de que lleguen los invitados (o todas las noches- no juzgamos).
Fiestas y decoración navideña
Árboles de Navidad

Asegure el árbol navideño atándolo al techo o al marco de la puerta y asegúrelo con un soporte de árbol resistente.

Consejo profesional para padres de gato: coloque un poste de rascado horizontal y vertical cerca del árbol

¡Proporcionar ambos tipos de postes para rascar aumentará las posibilidades de que su gatito use el poste en lugar del árbol!

No permita que sus mascotas beban el agua de los árboles vivos, ya que esto puede causar malestar gastrointestinal.

No agregue aspirina, azúcar o cualquier otro aditivo al agua.

Mantener los adornos y el oropel que se pueden romper o hacer de materiales a base de alimentos, como la masa de sal, debe mantenerse fuera del alcance de las mascotas para evitar lesiones como la obstrucción intestinal.

Cables eléctricos y luces

Masticar los cables y las luces puede causar quemaduras graves, así que considere cubrir los cables con tubos de PVC, ofrezca otras alternativas de masticación como juguetes y golosinas, o compre aerosol amargo que sea seguro para mascotas.

Desenchufe las decoraciones cuando no estén en uso.

Flores y plantas festivas

Muchas plantas navideñas pueden ser venenosas para las mascotas si se ingieren. Visite ASPCA para obtener una lista de plantas que son tóxicas para perros y gatos.
¡Esta época del año también puede ser más ruidosa de lo habitual en casa y en el vecindario! Para obtener más información sobre cómo ayudar a sus mascotas a superar ruidos fuertes como los fuegos artificiales, ¡consulte nuestra publicación de junio!
Estaremos cerrados del 24 al 27 de Diciembre y del 31 de Diciembre al 2 de Enero, así que comuníquese con su clínica local las 24 horas del día, los 7 días de la semana o llame a ASPCA o a la línea de ayuda de envenenamiento para mascotas (consulte los números a continuación) si no está seguro de los próximos pasos. Se pueden aplicar tarifas de consulta (generalmente entre $65-75).
ASPCA Poison Control: (888) 426-4435
365 días al año, 24/7
Línea de ayuda de envenenamiento para mascotas: (855) 764-7661
365 días al año, 24/7
– Dr. Ana Valbuena