Posts in Category: The Great Outdoors
Oh, what a typical December in a year of continual peace and normalcy.
What's your favorite holiday memory regarding socially distanced Zoom calls with family members you haven't seen in person for years due to splintered political realities followed by a deadly pandemic all the while keeping your 6-year-old son inside and away from his friends for 9 months and simultaneously being forced to keep an external facade of sanity and light fun in your two-holiday household while your profession, which is universally adored and undervalued at the same time, is more in demand of your time than at any other period in history?
I have so many.
So we know what usually happens here on the holiday. There is a cute blog post about keeping your dogs and cats safe, titled something like "'Tis the Wheezin': Asthma During the Holidays." I have written some in the past (HERE), and feel free to read. It generally can be summed up by this wise adage: "Don't let your dog and cat eat things or get burned and remember that New Year's Eve in Chicago generally involves people who do not have children and animals lighting off fireworks late at night to make those of us who do angry." And don't buy puppies, kittens, or bunnies as gifts. Instead, buy books like this inspirational tale for the animal lover in your life.
But I'm going to write about an unrelated topic: domesticated cats and the outdoors. I can imagine, even before writing this, that many people have strong feelings about this topic. My intention is not to pass judgment on anyone. I want to just give you the veterinarian perspective, and possibly give you an excuse to see photos of my fat indoor cats sitting next to holiday decorations, because that is how we indoor-cat people are generally seen and heard.
Some cats go outside. Cats go outside because some people feel that they have no choice but to let the cat out. Some people feel that it is philosophically cruel to not let the cat out, and some cats get outside by accident. All are acceptable.
I will be upfront and tell you that my two cats, Crocodile the Russian Blue mutt and Penelope the one-eyed tuxedo, do not go outside. They both try at times and have both gotten out before, but they stay inside and tolerate the complete subservience of all surrounding them.
Some of the dangers facing an outdoor cat are pretty obvious, but let's go through them (you and I, together, like old friends who aren't being watched):
1. Fighting with Other Cats
Cat bites and scratches are bad, cause severe infections, and can be fatal. All veterinarians have seen cats brought in with bite wounds that have become severely infected and, at worst, can puncture the abdomen, chest, eyeball, or throat and need surgical fix, hospital stays, and even euthanasia. We clean it up and give antibiotics, but it's always concerning. This also can lead to:
2. Spread of Infectious Disease
Feline leukemia virus (FeLV) and feline immunodeficiency virus (FIV) are spread through the exchange of bodily fluids (blood, saliva, etc.). Let's just assume that the cats outside getting into fights are mostly ones that are homeless, and that homeless cats comprise the largest population of cats carrying these viral diseases. Well, the logic chain/train follows, and you see the danger. We can vaccinate for FeLV, so if your cat does go outside, you can get this done. There is no vaccine for FIV. And no treatment for either disease.
3. Other Infectious Disease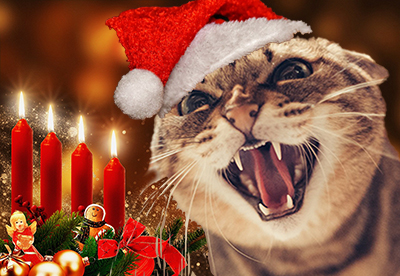 Rabies is a classic viral hit and can be spread through other cats or wild animals (bats, skunks, foxes). Make sure your outside cat is vaccinated for rabies, not only because it is the law but also because, even though it is rare, your sweet rabid cat can kill you and your family. (Still waiting for the Hallmark Channel's Very Special Rabies Christmas.)
Just for fun let's add endless respiratory infections (that can pass on to the other cats in your house), feline distemper (get your cat vaccinated for that, too), and parasitic diseases such as fleas (get monthly flea protection), ticks (get monthly tick protection), ear mites, intestinal worms (have monthly dewormers given), and ringworm.
All but one of these diseases can be passed on to you, your children, your grandparents, their friends, their friends' neighbor, your friends' neighbors' son's cat, etc. You see how this works. If you have an outdoor cat, and you're afraid to tell your veterinarian (which you shouldn't be), you can still take all the precautions: vaccines, preventatives, etc.
4. And Even More Infectious Disease
For the lucky, cats bring home presents, such as mice, birds, rats, etc. The rodents bring diseases and other rodents. It's endless.
5. Cats Get Hit by Cars…
… get hit by bikers, get stuck in garages, get hurt by bad people, get snagged on fences, freeze to death, etc. [Cut to unwatchable montage of more horrible things.] It happens.
My previous cat got stuck in someone's garage. I could not find her and searched for hours around the neighborhood. I eventually heard a cat crying in a garage and called the police who, hours later, located the owner who wasn't on premise, to open the door. That could have easily gone another way, and I will write that fan fiction novel later.
"Lost cat" signs litter my current neighborhood, and you know they aren't lost with a hobo bag on a train. They are all either dead, or (at best) living their lives with someone else. Also please have your outdoor cats microchipped. It's not painful and may save your cats' lives. You can also buy GPS trackers for their collars. I am not promoting a specific brand, but they are available anywhere.
6. Overpopulation
Cats are really good at making babies, causing the population of stray cats in the city to blow up. These cats either end up being helped by people/shelters that can barely deal with the cats they have or they are left to fend for themselves on the streets to die, starve, or spread more disease.
So first, get your outdoor cat spayed or neutered. It is absolutely the best thing for them, for their health, and to keep down the population of wild cats in need. I also do not need to explain to you how a wild tom cat will treat a sweet young lady cat taking a stroll down the promenade with her uterus and ovaries. If you want to reduce the chances that your boy cat doesn't get into a fight, well, then neuter. There are conflicting statistics, but most sources suggest that one female cat and her mate and all the subsequent offspring amounts to 11 million cats in nine years.
7. Anti-Nature
Lastly, I fear that some of you feel like the most natural thing for the world is to let your cats outside and let them live the full entirety of their existence. I get this, I really do, but also understand how much destruction to the natural environment cats do. They destroy natural foliage and other wildlife despite their good intentions. There is some very good evidence that the best thing for "nature" is to keep your cats inside, and you can find many other resources on this topic.
There are cats that do better when they go outside. I've had clients keep their cats inside and later see them become anxious, yowl, not eat, urinate all over the house, etc. I don't want your cats to suffer, but if you want to make that transition, there are things we can do. It may not be the case that your cat is anxious because it can't go outside. In fact, it may be that it has always been anxious, but you never noticed until you kept it inside. Always have us examine your cat before making any judgments. Maybe your formerly outdoor cat is suffering from something else (UTI, pain, etc.).
As always, feel free to discuss with us at any time. This wasn't meant to be a philosophical treatise on domesticated animals' rights, though that is generally how I fantasize spending a great deal of my off time.
Try to relax during these times and make sure you don't feed your dogs chocolate-covered antifreeze-infused garlic balls for the holidays, or give your cats kerosene holiday lamps for Hanukkah.
I will continue to lord over Secret Santas everywhere while I fulfill my long-standing December tradition of making holiday cookies I can't eat in a house I don't own.
Be safe, don't travel, wear masks, and shop locally on-line. And Black Panther is a holiday movie.
— Brett Grossman, DVM