Even Vets Sometimes Need Vets
I need to come clean: I'm a bit of a lazy dog owner. I don't brush Emmie's teeth, I'm usually a few days late to remember her heartworm, flea, and tick preventatives, and we only did the bare minimum with training to curb Emmie's issue with meeting strangers.
COVID Shut Down Puppy Socialization
Like most of you, our lives drastically changed March 2020. Not only did COVID become part of our lives, but we also welcomed our first daughter. (My first time leaving the house without her to run an errand was the day the governor shut the state down.)
So, what little progress we made with Emmie meeting strangers and with getting her used to people coming into the house went out the window. And my family wasn't not alone.
Now that many people are heading back to work, we are seeing a lot more behavioral issues with pets as they are trying to adjust to post COVID life. For my family, this transition has been tough, because now not only do we have a dog that is even worse with strangers, but we must think about playdates with handsy toddlers with underdeveloped pre-frontal cortexes.
Time to Ask for Help
We were at a loss. The thought even crossed my mind that we may need to rehome our dog. I've helped a lot of clients manage routine behavioral issues, but some issues require looking to veterinarians who have more training and certification in their specialties.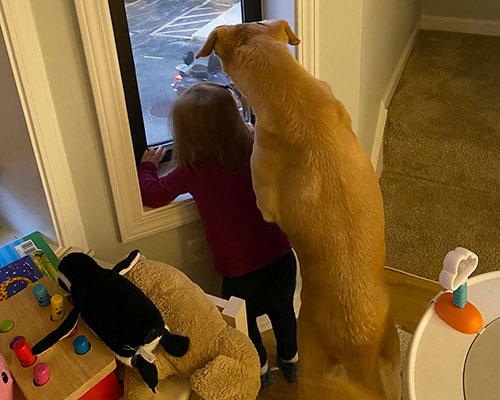 So that's what my family did. We have started working with a boarded veterinary behaviorist. You may have found being referred to a specialist frustrating (and at times expensive) when I or one of my colleagues recommended that. However, please know that it's because we want what's best for your pet. And sometimes, we don't have that particular skill set. Even we need help sometimes.
We have a long road ahead of us with Emmie, but I'm hoping that as we welcome our second daughter to our family this summer, with some training and tweaking medications, things will get better. I'm hoping that maybe this time around, my maternity leave will involve having more family and friends meet our baby girl in person instead of over Zoom.
Bringing Home (Another) Baby
This is probably a good time to mention that I will be on leave from the end of June (unless this little one decides to come early) through the end of October. I would also like to thank our medical director, Dr. Sullivan, for being so supportive with scheduling my leave and return to work. And the amazing staff at Medical District Veterinary Clinic have been so supportive and helpful as they watch me waddle from patient to patient, never complaining that I'm not as able to help with certain tasks, which means more work for them.
I am so grateful to be part of this incredible team, and although I am looking forward to having a warm summer, pandemic-free (fingers crossed) maternity leave, I know I will be excited to come back in the fall.
— Dr. Alyssa Kritzman