Salty Paws Make Salty Dogs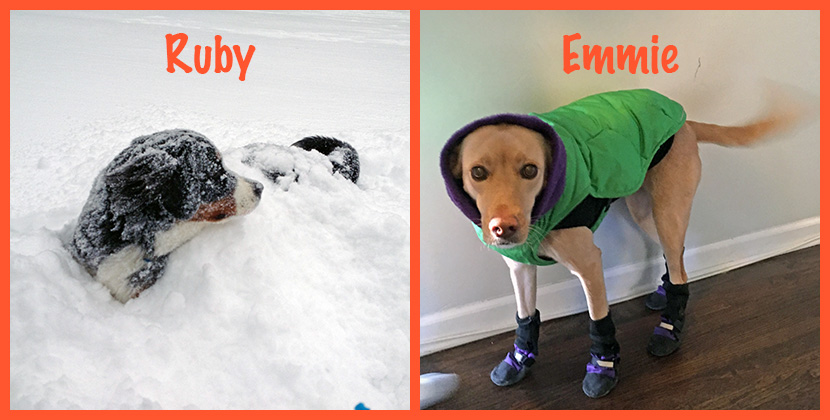 Rock Salt Is the Real Culprit
There comes a point at the end of every year when you can no longer just grab the leash and causally head out for a walk with your dog. (That is, unless you have a Bernese mountain dog like my brother's dog, Ruby, who would live in the snow if she could.)
Instead, you have to determine how many layers of clothing you and your dog need to go for a walk. I've been doing this dance for years with Emmie. Eventually she complies, thankfully. But, just once, I wish she would remember that when we don't put the booties on and there is salt out, she ends up crying out and her paws hurt.
As cold as our Chicago winters are, there are really only a few days in any calendar year where it is so cold you have to truly worry about a dog's paws. The real culprit that is causing dogs to lift up their paws and look at you like they're auditioning for an ASPCA commercial is the rock salt. I've definitely had to carry Emmie a few hundred feet through a heavily salted sidewalk stretch when we were caught off guard.
So here are two ways to help protect your pet's paws, plus what to do if you forget:
Booties
Yes, they are annoying to put on. Yes, they can sometimes fall off. And yes, most dogs don't like putting them on. But booties are by far the best way to protect your dog's paws, and when she's outside she's much happier.
The key is to find a brand that fits your dog well. Put in the extra effort to measure the size of your dog's paws for best fit and look for waterproof options, if they are in your budget.
I'm a fan of Muttluks. They have a measuring guide to help ensure the best fit. Remember: Never use a rubber band or any other band that can be constricting to hold up the booties.
Balms
These can be used to try to prevent ice balls from forming between the toes. Balms also help keep small amounts of salt from bothering their paws. The base ingredient for most of these balms is beeswax, but sometimes you can use coconut oil as well.
The most common brand I see is called Musher's Secret, though a lot of other brands are out there. The upside is that most of these can be licked or ingested with no concerns. The downside is that they tend not to work as well as booties.
Remedies
If you are like me, sometimes you forget. (Or, TBH, are too lazy and depressed about how dark it is at 6:30 in the morning. Even after we go back to standard time, ugh! Which if any of you have a toddler like me, does not mean an extra hour of sleep!)
When you forget and your dog gets salt on her paws, rinse them off with cool water once you're home. A warm water Epsom salt soak for 5 to 10 minutes will usually fix the problem if her paws are still irritated after everyone has warmed up from the outing. If the paws are still irritated or seem painful after a soak, give us a call.