Fear Free Practices for Furry Friends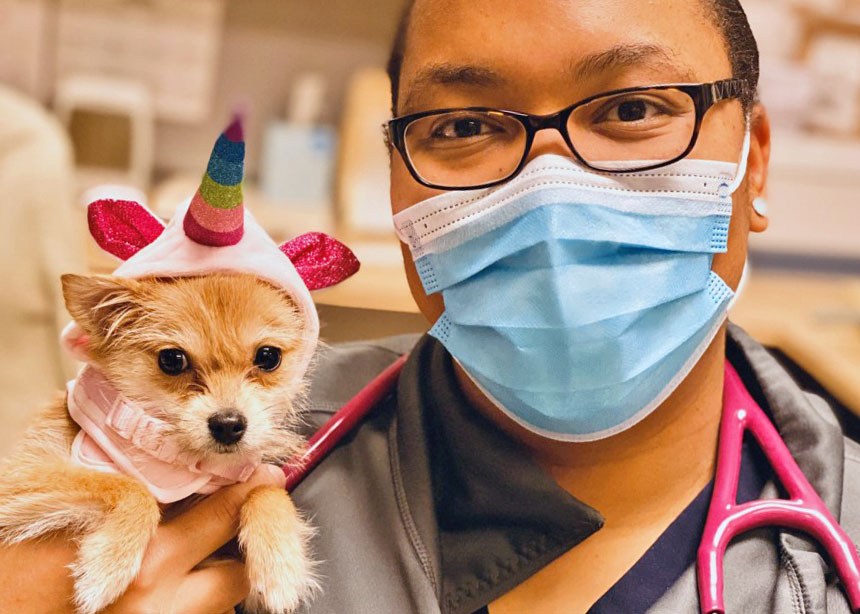 For many people, the doctor's office can be a scary place. So it is no surprise that many pets view going to the vet with a similar fear.
Our clinic truly believes in Fear Free practices. Our goal is to limit your pet's stress and fear and make visits with us as pleasant as possible. There are various ways that we do this, which I would like to share with you.
Treats, Teats, and More Treats!
During your pet's visit you will notice that we like to offer treats. We have biscuits, cheese, peanut butter – like a candy store for dogs and cats! This is not only because we think your pet is adorable and we want to spoil them, but this is also a main way we like to bond with them.
Imagine if you are at the doctor and you are anxiously waiting, and then the doctor walks in and immediately offers you your favorite treat (for me, that would be some delicious baked goods) and socializes with you. You would likely feel much calmer and connected to them. This is the equivalent of what we do with your pets.
Although we have lots of treats, if you have a dog or cat that is pickier with food, please feel free to bring whatever your pet likes best. This is not uncommon, as I have seen many patients that would eat only one food.
We encourage owners to offer treats as well during visits to help make the entire experience as positive as possible. We joke that visits go best when our patients come hungry, so you may want to consider bringing your pet to see us with an empty stomach so there is plenty of space for treats!
Getting on Their Level
We want our patients to feel comfortable, so we often will sit on the ground with them. We hope that by sitting on their level they feel less intimidated and fearful, and that they see us as their "friend." I have noticed that when I sit on the ground and spend time in the room before even beginning my exam, my patients generally seem more at ease.
Please do not feel obligated to sit with us, but if you would like to you are totally welcome!
Limit Stress from Other Pets
Many cats never leave the home except to go to the vet. They may be stressed by traveling before they even arrive.
The smells and sounds of dogs can be very scary for them, too, which is why we recently created a separate feline waiting room and exam rooms. We use all separate supplies, have tasty treats and fun toys, and have nice feline-friendly smells. In the months since we have started using this new space, I have noticed that cats overall seem much calmer and happier.
Dogs can be become upset from other pets as well. Some of the sweetest and most affectionate dogs that I have met do not get along well with other dogs. Being around other dogs is stressful for them. I personally have a dog-reactive dog, and while she loves people, other dogs make her highly anxious.
To reduce this anxiety, we have multiple tactics, such as choosing specific exam rooms and trying to limit time in the clinic and exam room, when other pets are a trigger for the patient. We also perform exams outside in an isolated area if needed.
Fear Free for Your Pet
Please let us know if your pet is reactive with other pets, or there are any other behavioral concerns, and we will work with you to formulate a plan for their visits.
I hope you can see how much we at Medical District Veterinary Clinic truly care about our amazing patients! We look forward to continuing to make their time with us as fun and enjoyable and fear free as possible!
Amber Slaughter, DVM